Spring has sprung and with lockdown restrictions allowing restaurants to open for outdoor dining in London from the 12th April, it's time to enjoy the outdoors again. And – most importantly – a meal you haven't had to prepare yourself.
We have put together a guide on our top 10 spots for the best alfresco dining in and around London.
1. Dalloway Terrace
Central London
Dubbed as one of London's most instagramable restaurants, Dalloway Terrace is the perfect escape from city life. All-day favourites make up the menu, with a range of cocktails and wines also available, in addition to a popular afternoon tea.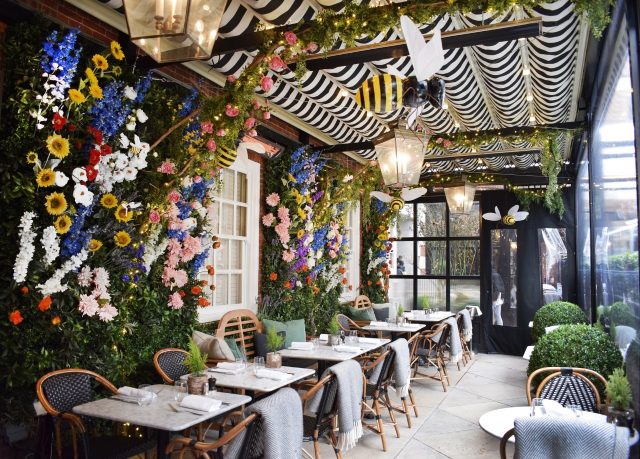 2. Sushisamba
Covent Garden, West London
This popular city gem has dropped down a few levels (30 to be exact) and has opened its doors in the vibrant Covent Garden Opera Terrace. The Sushisamba restaurant runs along the entire east side of the market, making for beautiful rooftop views across the piazza.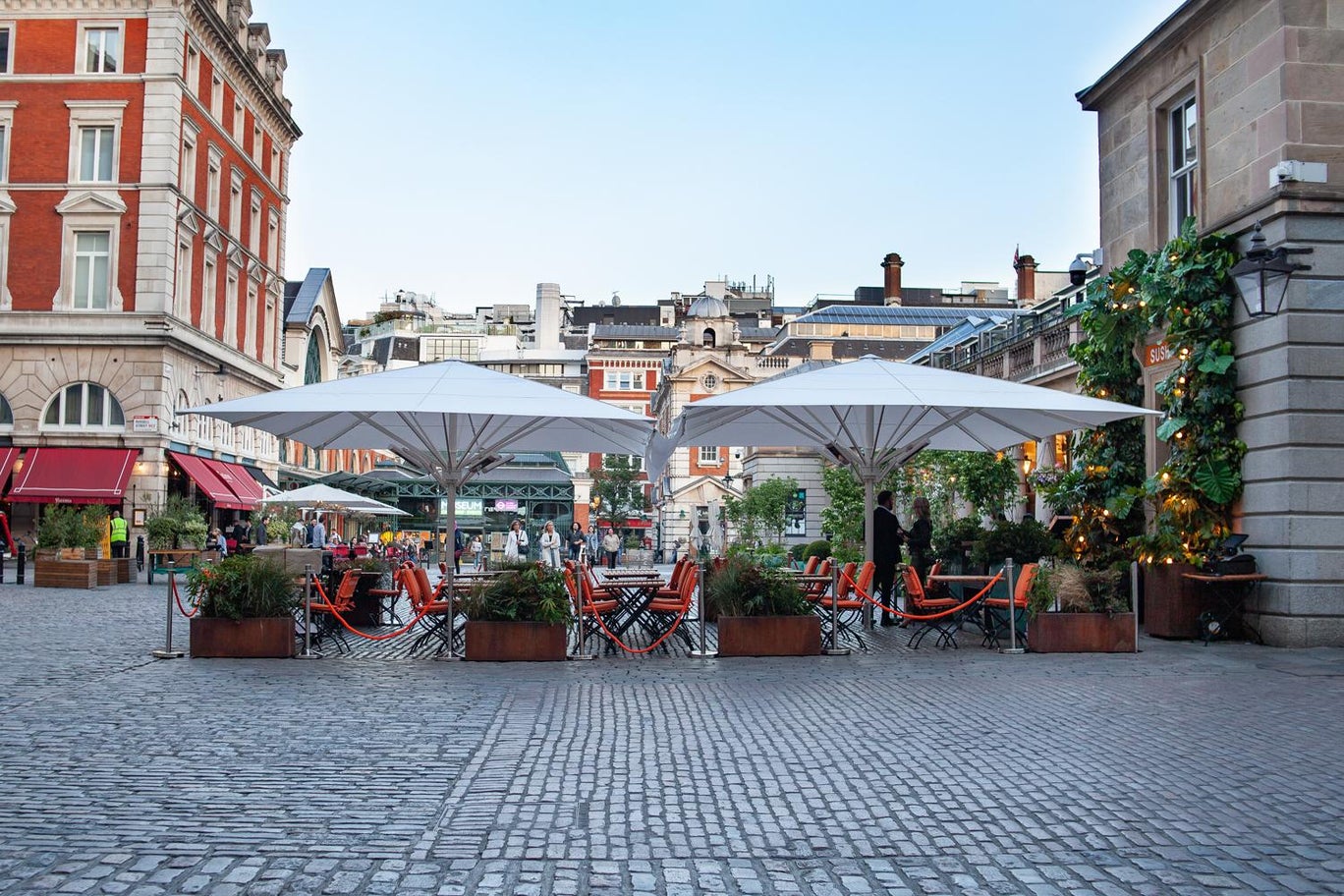 3. Petersham Nurseries
South West London
Just a short walk from Richmond along the Thames is the serene Petersham Nurseries. Sit amongst antique tables and freshly cut flowers from the nurseries garden, whilst enjoying the seasonal menu inspired by their kitchen garden.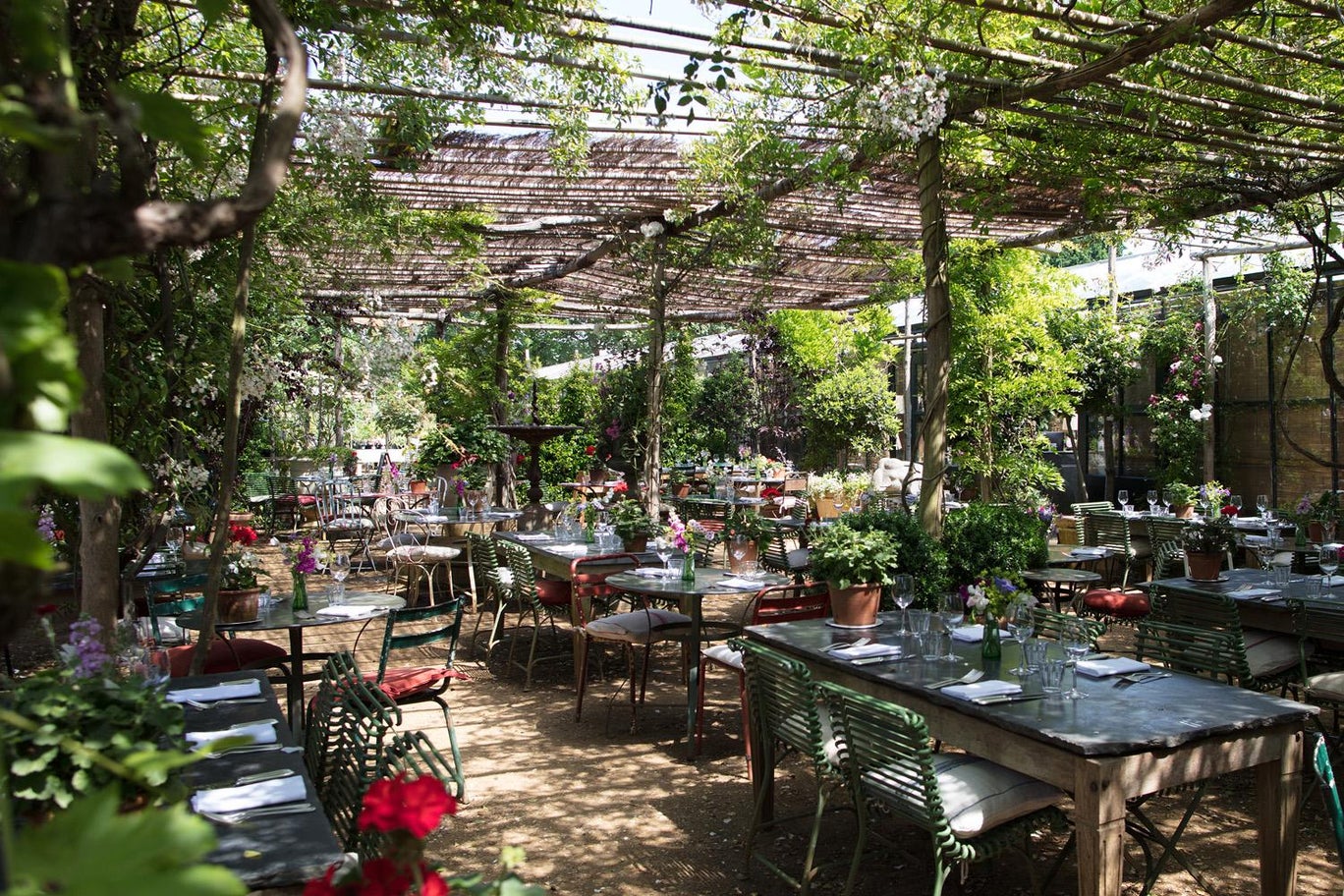 4. Circolo Popolare
Central London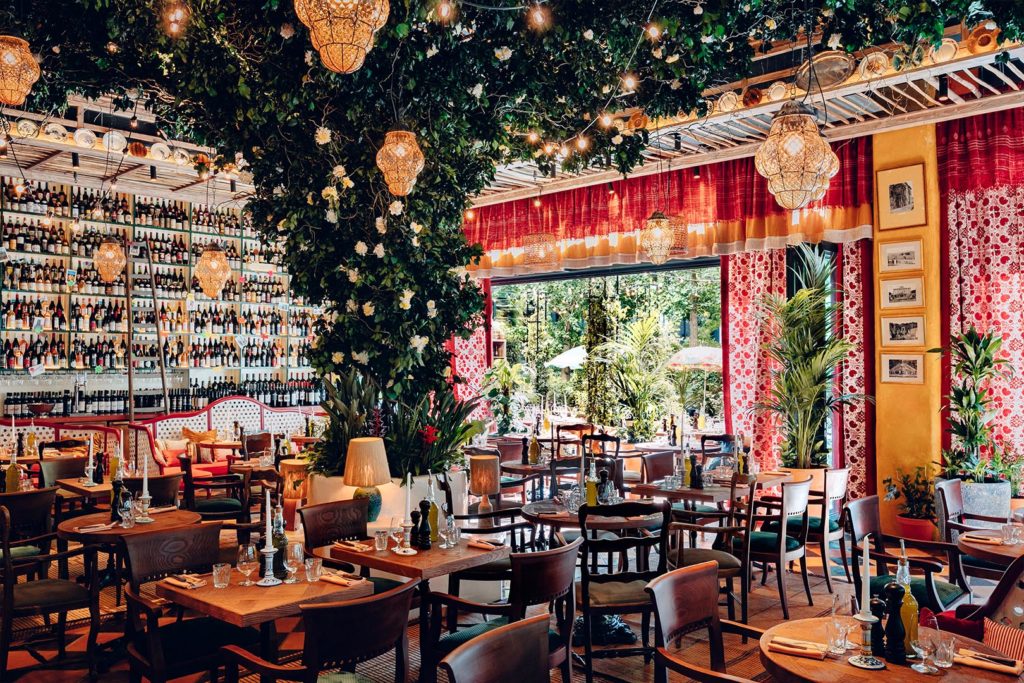 5. Seabird
South London
Sitting on the 14th floor of the Hoxton Hotel with views across the Thames, this trendy spot ticks all boxes. Claiming the title of London's longest oyster list, seafood is at the heart of Seabird's offering – with special attention paid to a list of high-quality shellfish served from their raw bar.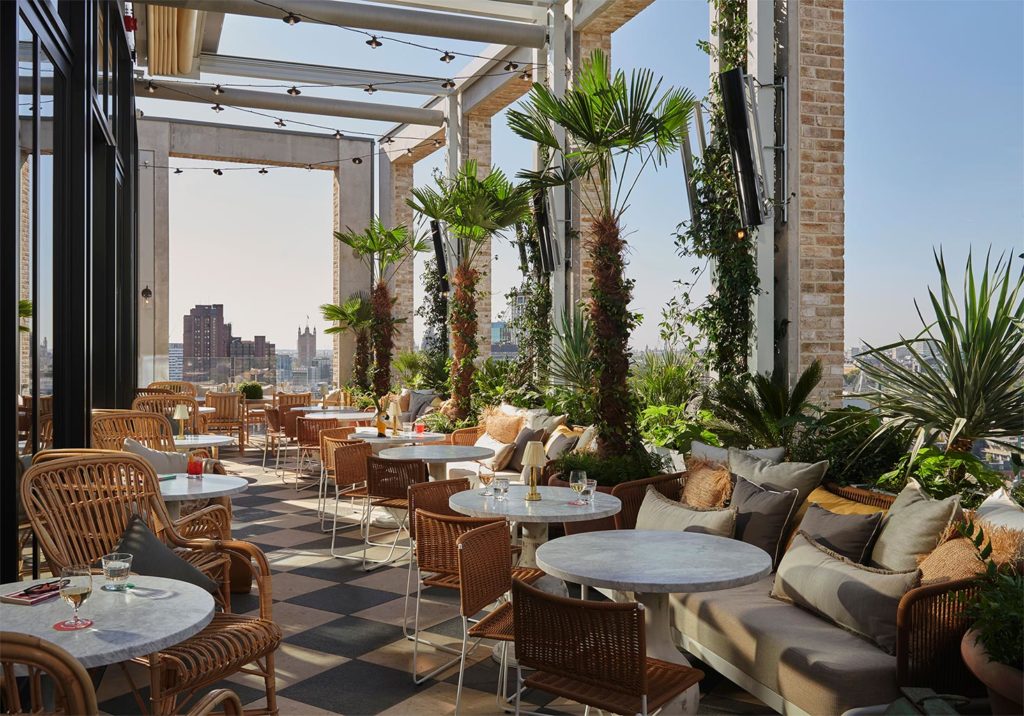 6. Pergola Paddington
West London
Perfect for laid-back weekends, bask in the sunshine or stay cool under the pergola at the Pergola Paddington. Don't just limit yourself to one menu, choose from an array of self-service restaurants, two fully stocked bars and bookable daybeds.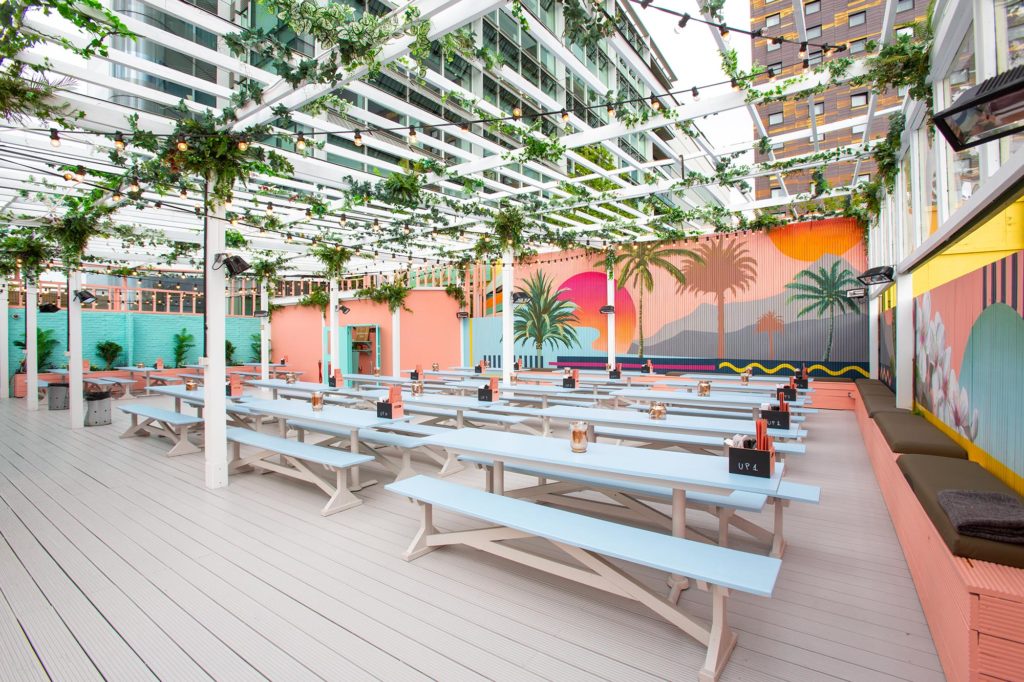 7. Allegra
East London
Situated on the 7th floor of The Stratford, Allegra is sure to be one East London's most exciting spots to dine at. From lazy lunches to late-night dinners, experience authentic hospitality and inventive dishes using ingredients from their local organic farm.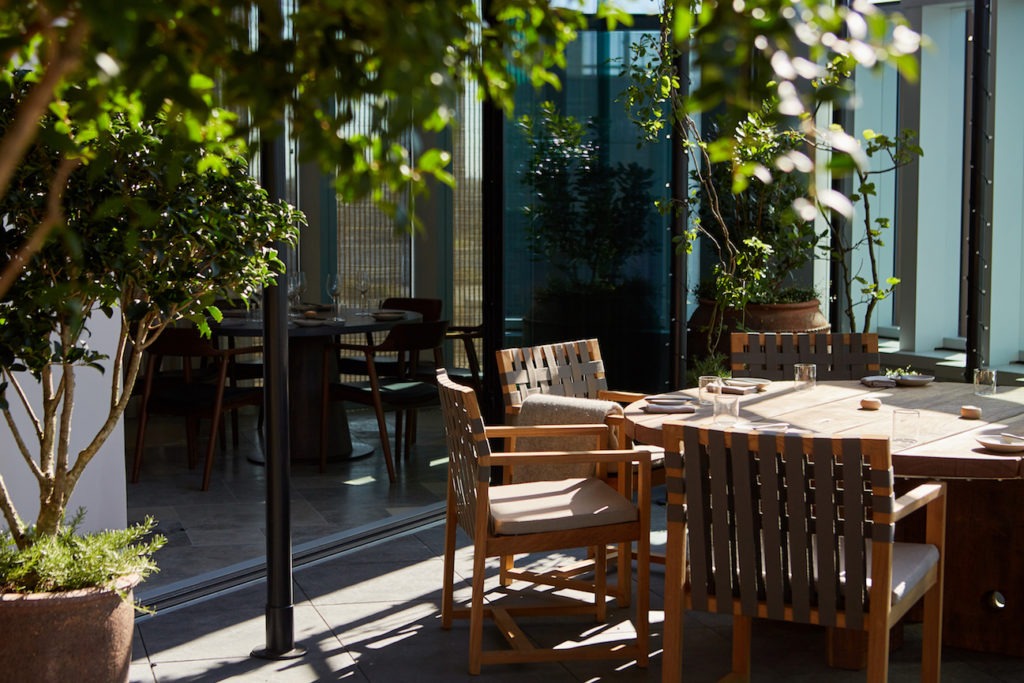 8. Hicce
North London
Hicce – pronounced ee-chay and meaning 'of the moment'. This restaurant is incorporated into a high-end clothing store and has the feel of a NYC loft with an alfresco terrace.
Sit back and enjoy their wood-fired food that's brimming with British flavour, including the must try, 'hot sticks' cooked over coals.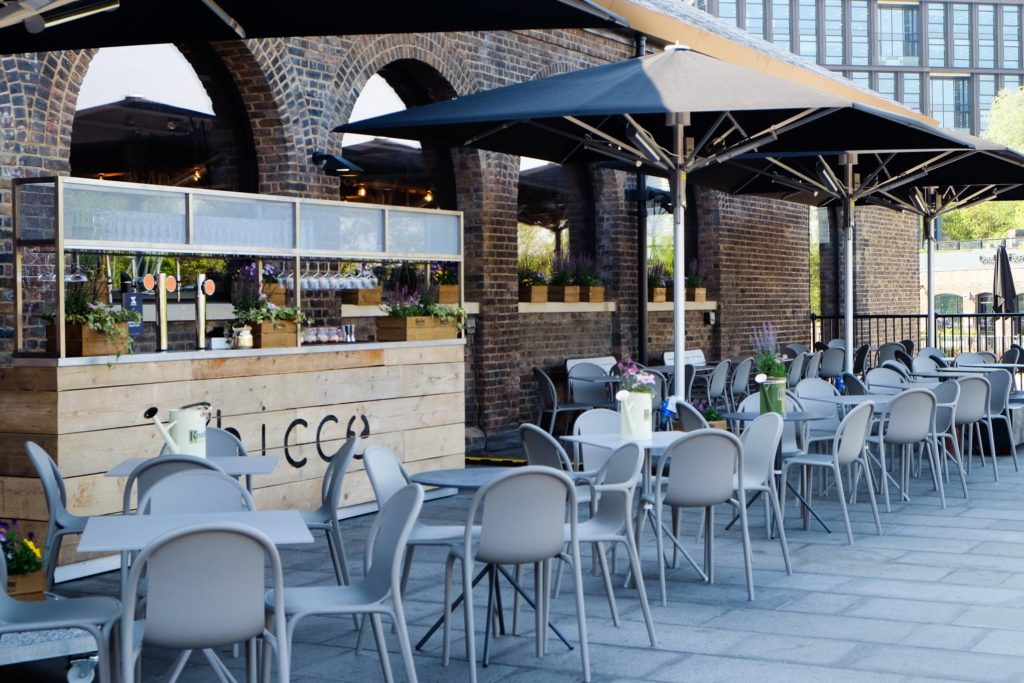 9. No 197 Chiswick Fire Station
West London
Set inside a former fire station on Chiswick High Road, enjoy the beautifully transformed former ugly duckling with marble tables and floral canopy. No 197 Chiswick Fire Station's weekend all-day brunch menu is filled with tempting treats, from the truffle cauliflower macaroni cheese to the rotisserie pineapple with chilli syrup.
10. Fallow
Central London
Situated on the traffic free Heddon Street, Fallow restaurant was created by two former chefs at Dinner by Heston. The restaurant has a strong sustainability focus, with an ever-changing inventive menu.